All 3 Chief Namakagon Novels + Free Shipping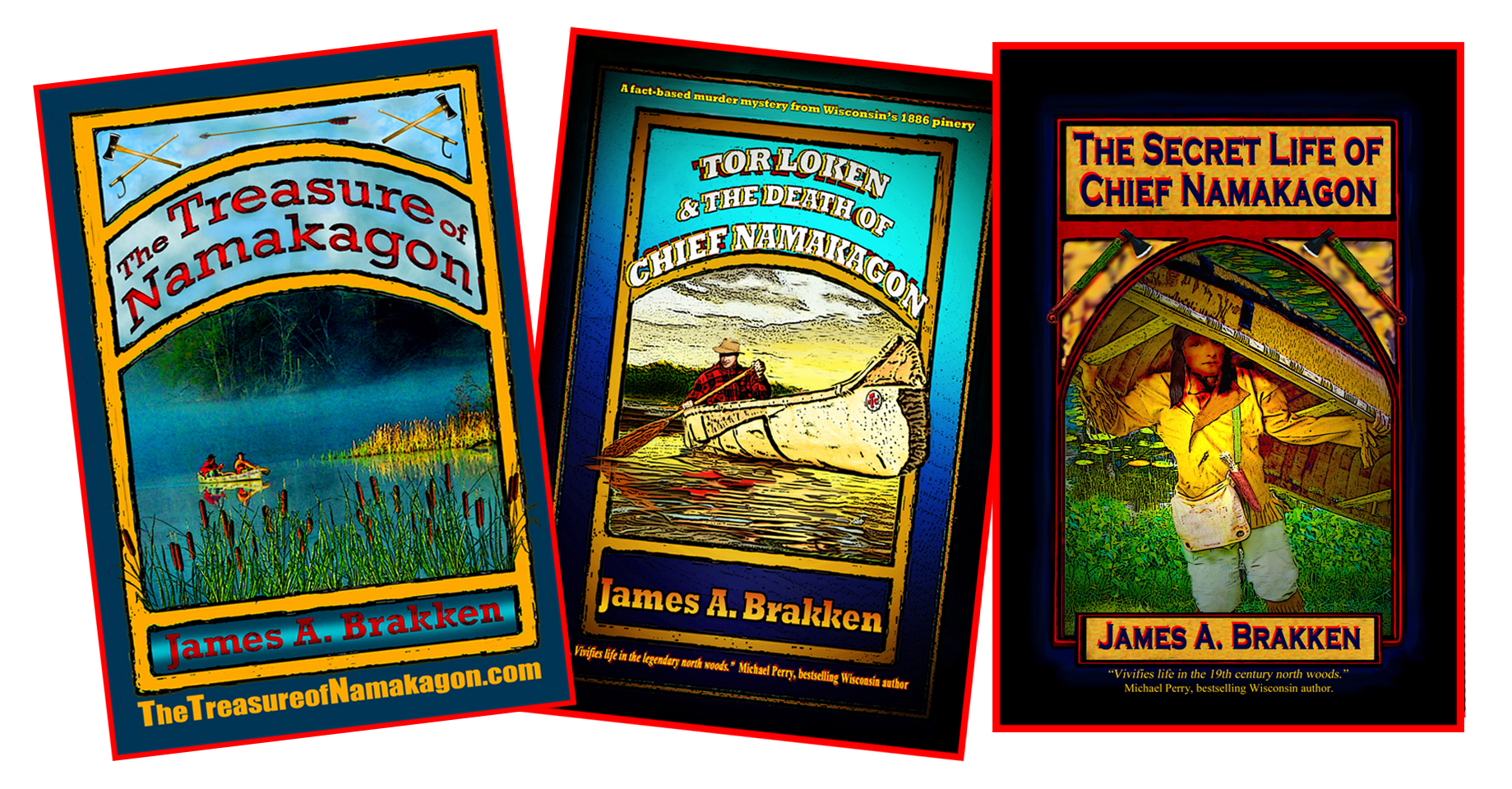 $ 49.99 USD
GREAT GIFT IDEA! Save $11, (that's $4 off the reg book price, $3 sales tax, and $4 shipping cost) when you order the complete set! ORDER WITH CREDIT CARD OR PAYPAL. James Brakken's NAMAKAGON TRILOGY, signed and shipped free anywhere in the USA.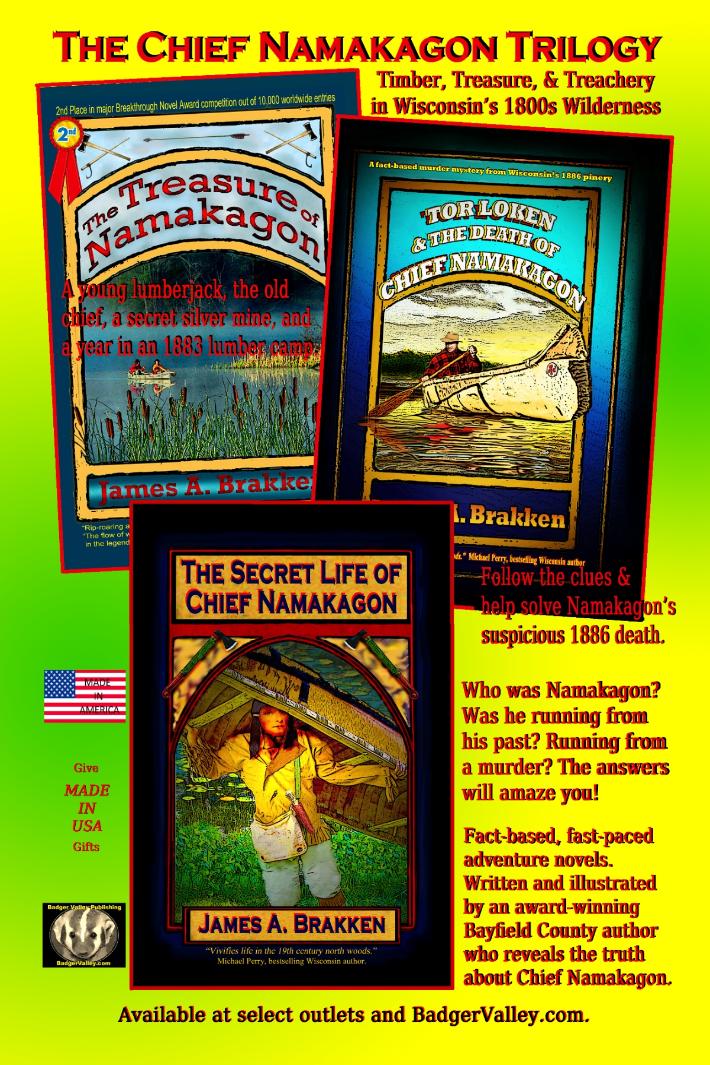 Special bulk prices for bookstores, schools, and fundraisers. Email TreasureofNamakagon@Gmail.com for info.
TIMBER, TREASURE, & TREACHERY in northern Wisconsin's 19th century wilderness! Three thrilling, fact-based northern Wisconsin novels. Illustrated, award-winning historical fiction written for adults but suitable for age 12 & up.
Great gifts!
All 3 signed by the author and shipped free to your door. Sales tax paid by the author.

A savings of nearly $7 over bookstore price PLUS we ship free, saving you another $4 for a total savings of $11.




THE TREASURE OF NAMAKAGON
BOOK 1
Live the "lumberjack" days in old Wisconsin. Button up your mackinaw, grab a pike pole, & plunge into 1883 "pinery" life. Meet legendary Chief Namakagon. Explore his secret silver mine. Join the lumberjacks as they save the camp in this thrilling, fact-based adventure.
2nd PLACE in AMAZON'S BREAKTHROUGH NOVEL AWARDS out of 10,000 worldwide enteries!


BOOK 2 TOR LOKEN & THE DEATH OF CHIEF NAMAKAGON

A shipwreck, a lost map, river pirates, lumberjacks, miners, charlatans, ne'er-do-wells, and the 1886 murder of Chief Namakagon for his silver treasure! Follow the trail of clues in this thrilling, fact-based, mystery novel. Solve the twisting, turning, 13-decade-old murder case. Penned by the Bayfield County author whose research unlocks the truth. Includes maps to the Marengo silver fields, the likely location of Namakagon's lost silver mine.


BOOK 3
THE SECRET LIFE OF CHIEF NAMAKAGON

Who was he before he came to NW Wisconsin? Was he a fugitive wanted for murder? An adventurer caught between two worlds, his deeds propelled him into fame. Share Namakagon's courageous story—the true tale of an Ojibwe chief's early life—kept secret until 2014 when James Brakken's research unearthed the truth—128 years after Namakagon's death!
Because the US Army decleard him dead in 1846 and because James Brakken solved his mysterious disapearance then, the author solved a 168-year-old cold case, thus changing histories written about Chief Namakagon's life and death!