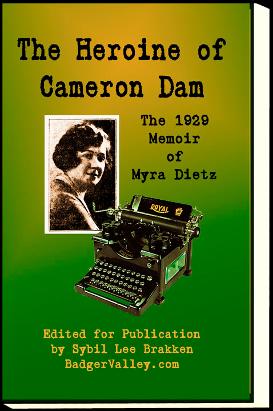 AVAILABLE ! ... The Heroine of Cameron Dam, Myra Dietz's 146-page manuscript (MS) is now a 204-page book! The MS was found long ago by a man searching trash cans outside a Los Angeles publisher's office. Myra's only copy of her life story fell victim to the Great Depression and languished for decades before James Brakken discovered it during research for his true-crime novel, Thornapple Girl. Now, after 9 decades, Myra's recollections of coming to age on a backwoods north country farm, defending her father, then fighting for years to get him out of prison, is in print. The Brakkens have published the MS as an annotated memoir. Descendants of John Dietz are pleased to know of the discovery of the memoir and its recent publication.
(See the
1962 L A Times article

at the bottom of this page)
The Heroine of Cameron Dam (Ships Free)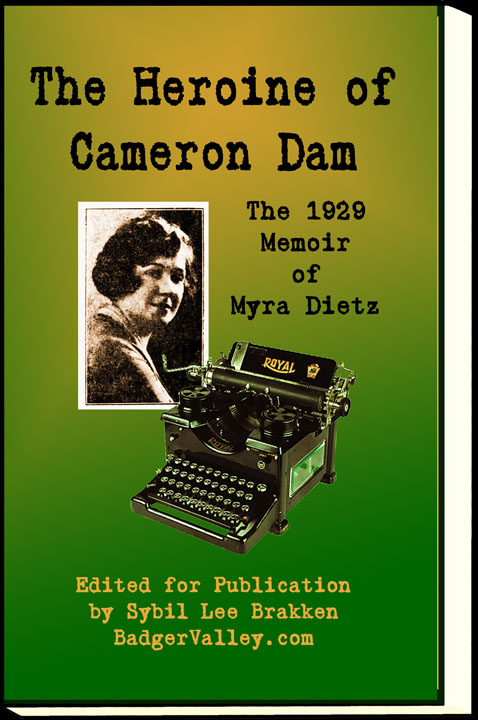 $ 17.99 USD
SHIPS FREE, WI Sales Tax Paid! The perfect companion to Thornapple Girl. Lost in 1929, Myra's memoir is finally published—after 9 decades! Her story illuminates both the pleasure and hardship of life on a Northern Wisconsin farm at the turn of the last century. This is the annotated version of Myra's memoir. Annotations and illustrations are contributed by Sybil and James Brakken. The Heroine of Cameron Dam is Myra's personal recollection of events leading up to and following the 1910 attack on her family's farm by scores of armed woodsmen. It exposes the graft and corruption that dominated most lumber company towns in 1910. Myra's memoir was edited by Sybil L. Brakken and is available Oct, 2020, along with Thornapple Girl, James Brakken's fact-based novel about Myra Dietz and her father's stand against the lumber trust. 204 pages, over 80 images. NOTE: Special 2-book offer saves $4. See below.
Special 2-book bargain: Purchase

Thornapple Girl

and

The Heroine of Cameron Dam

for only
$34

, shipped free with Wisconsin Sales Tax paid by the publisher!

Scroll down

to see the deal!
BOTH Thornapple Girl AND The Heroine of Cameron Dam
$ 34 USD
Special 2-book bargain: Purchase Thornapple Girl and The Heroine of Cameron Dam for only $34. SHIPS FREE with Wisconsin Sales Tax paid by the publisher! Both books signed and shipped to your door! Saves you nearly $4 over store price!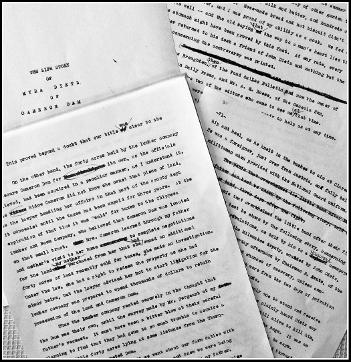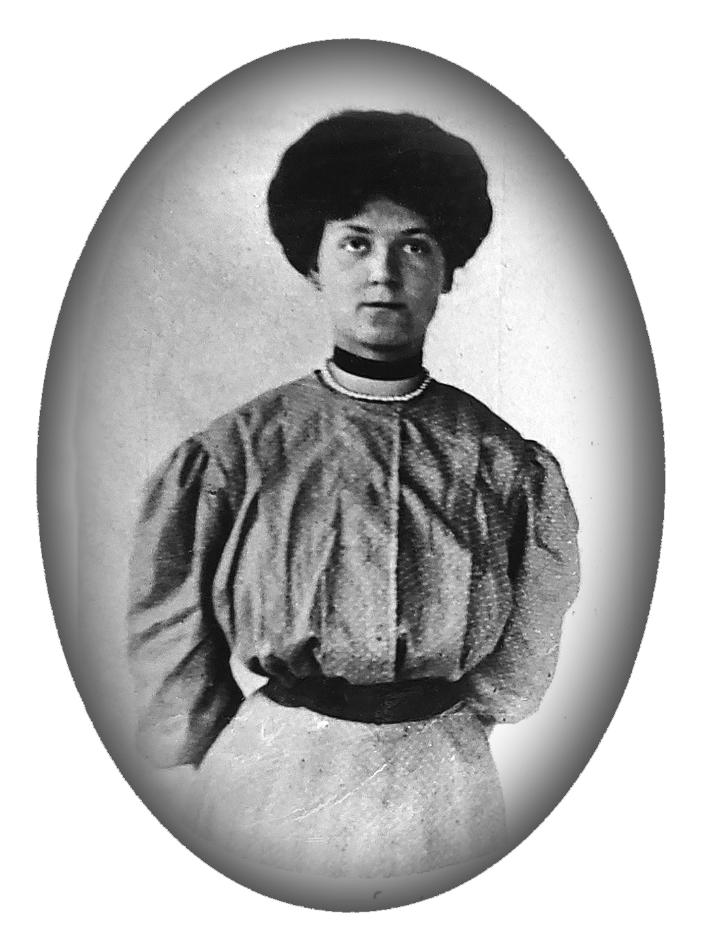 Left: Myra typed a single copy of her memoir. Her edits can be found throughout. Right: Mary Almyra Dietz
Excerpts from
The Life Story of Myra Dietz of Cameron Dam.
Written by Myra in 1929 but first published in 2020 by Badger Valley Publishing Edited for publication by Sybil L. Brakken The following are Myra's own words:
Here at last is a reliable and truthful story of the John F. Dietz family, of Cameron Dam, in Northern Wisconsin. Although the events narrated in this book took place many years ago, I have found that our melodramatic story is still fresh in the memories of thousands of people. Everywhere I go, I am asked to relate our experiences as they actually happened. And always I find that the hearer has retained a memory of "an outlaw family of squatters" instead of realizing the truth. Our name and our fame will go down through the years in Wisconsin history and I feel that a true account of our wrongs and sufferings, together with an explanation of our ideals and our principles for which we stood so firmly, should be preserved for posterity.
Thousands of newspapers which carried stories of our feud hailed me as "THE HEROINE OF CAMERON DAM" because, like my brothers, I was always near my father in every encounter. Perhaps it was for that reason that I was so cruelly shot down in ambush in 1910 when three of our father's enemies, with blackened faces, shot at my brothers and myself as we drove our team to town for the weekly mail, singing lustily from sheer youthful gayety as we trotted along in the October sunshine. And because I was a "Dietz," the District Attorney of Sawyer County refused to serve a warrant on the sheriff and his posse who had shot us. I have suffered with and for my father. Therefore I feel that I am logically the one to give our family story to the world.
It is not unusual to find melodrama in the North Woods. What is unusual is to find a man willing to pit his feeble strength against a great lumber company over the possession of a small dam on a babbling little creek and forcing that lumber company to spend a good portion of a million dollars to overcome him.
Actual expenses of the company ran close to two hundred thousand dollars, and nobody knows, unless it is the corporation heads, how many more thousands were expended in bribes and payments to grafting county officials.
I will let the reader determine whether my father was right or wrong. I hope the story will prove entertaining.
Re: Several days after Myra was shot down in ambush by the Sawyer Co. Sheriff & his deputies, she was transported in a baggage car to St. Joseph's Hospital in Ashland. She remained there over 60 days, but survived to tell her story.
Dr. J. M. Dodd, head physician of St. Joseph's hospital, Sister Josephine, surgical nurse, and other nurses were apparently waiting for me, for I was rushed into the operating room after a short examination. When the bandages were removed, I heard Dr. Dodd say to the sisters: "The traitors! This girl has had no medical attention—just some little antiseptic gauzes!" Then for the first time I learned how badly I had been shot. According to Dr. Dodd's report, the bullet entered my body at the left side at the waist line just over the hip bone, passing through the left kidney and lower bowels and through the spinal region, coming out one quarter of an inch to the right of the spine, shattering the vertebra. The doctor and his nurses found that a steel jacketed bullet had been used in the shooting, and it had passed right through me. Clarence had suffered a slight flesh wound on the arm just above the elbow at the time I was shot and it was believed that the bullet which passed through me had gone on and grazed his arm.
"The Dietz Battle of Cameron Dam" Motion Picture
In June, 1913, we made arrangements with the Advance Motion Picture Company to make a motion picture of our lives, using our farm at Cameron Dam as the location. In July, my mother, the boys, the children, and I with a group of twenty actors and a camera man returned to Cameron Dam and made a moving picture of the feud and the final battle. It was the first time I had seen the farm since that day three years before when I had dressed in my new brilliantine mail order suit and started to town for the mail with my brothers! What a lot had happened since that day!
Competent actors took the roles of my father and mother, my brother John took the part of my sister, Helen, and my brothers Clarence and Leslie played their own parts and I played my own. A tall actor took Father Pilon's part and another played the judge in the trial scene. We drove our team and a surrey over the road where I had been shot to the exact spot where the men with blackened faces shot us from ambush and then handcuffed us. It was a good picture, really, and as we looked at it in its completed form it surely carried us back to those unhappy days, so natural were our "father" and "mother." The actual making of the picture was a pleasant experience—not the gruesome time we had anticipated.
Left: A showbill used to promote the fundraising events. Right: Myra, 22, and her father pose prior to his trial.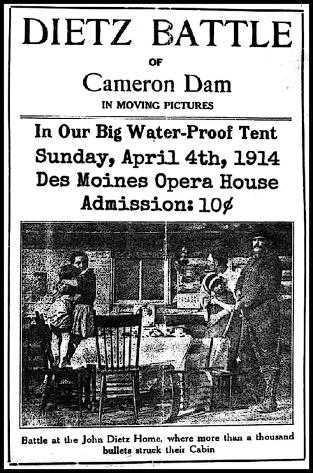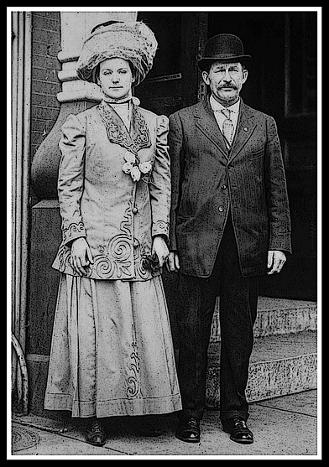 Top Left: A showbill for the 3-reel, 35 MM film shot in Winter, WI in 1913. Top Right: Myra and John before the trial.
The moving picture of our life meant just another way of reaching the public to my brothers—but to me it was of tremendous importance. The camera man who accompanied the actors to do the "shooting" of the picture became my husband the following year. My bridal pictures of that event were the first moving pictures of a real wedding ever made, and were given as wide circulation as the stories of my father's feud. At the end of ten years, the marriage was dissolved. During those years however, I never ceased my efforts to obtain my father's release. The moving picture of the Cameron Battle was finished by October of that year, and the autumn of 1913 found us with something far more interesting than our old slides as we went about the theatres. Moving pictures were not so common as they are now, and ours was a three-reel feature picture of great importance. We paid $5,000 for its production, but we took in many times that amount with it.
Regarding the supposed death of one of 100 men deputized for the siege of the Dietz home:
[Ballistics expert,] Captain Kane was called in on all questions pertaining to bullets in murder trials all over the country for his keen unbiased testimony was considered absolutely reliable. He testified that the bullet could not have been shot from my father's gun—the bullet was too heavy for thirty-thirty ammunition. Second: The creasings on the bullet given him by the District Attorney did not correspond, to the creasings of my father's gun bore, nor to the creasings on other bullets he fired from my father's gun in tests made at the farm.
The bullet given Captain Kane by the District Attorney was a ricocheted bullet and could have been fired from any direction. Captain Kane testified that if it had ever entered the body of a man it had done so after it had struck a rock and had glanced sharply to one side or the other.
The strangest part of the whole affair was the complete absence of any murdered man's body on the farm at the time the shooting was alleged to have taken place. The reporters didn't see it, there were no photographs taken with an X marking the spot where the dead man lay, as reporters so love to publish. The records of Sawyer County contained no burial certificate and no record of a coroner's inquest over a dead body, although the coroner stated on the witness stand that one had been held the night the Dietz family was taken to jail.