Welcome to BADGER VALLEY PUBLISHING
Your story. Your way. Your book ...
Today!
Don't spend thousands to get your book in print!
Let Badger Valley help you get your book in your hands quickly and at a reasonable cost. NO NEED TO ORDER THOUSANDS OF COPIES if you use our method---a system that works for YOU and NOT some big brick-&-mortar publisher!
See one of the books we've published for others at bottom of page. Wally Wenzel's great 1930s and 40s memoir based on his childhood in Phelps, a small northern Wisconsin town.

Also ... Jim Anderson's DISCOVERING AMERICA ONE MARATHON AT A TIME

Through BVP, your book can be in your hands in a few weeks! It can also be online as an ebook and as a print book, both available at Amazon.
You set the price (usually between $15 and $19) and you share royalties from ebook and Amazon sales. Plus, the lion's share of proceeds from your own sales stay in your pocket! The potential profits from sales and royalties are infinite.

BVP has very reasonable rates and a very quick turn-around time, (provided your files are ready to publish). Call 715-798-3163 or email treasureofnamakagon@gmail.com today for details!
Note: Book content is subject to BVP approval. We will not publish books with excessive or graphic violence, erotica, or content deemed to be disparaging or hateful.

BVP offers some assistance with editing, graphics, and marketing of books. Contact Jim Brakken today at treasureofnamakagon@gmail.com with your questions.

Author/Publisher, James Brakken is the winner of the 2013 Amazon Breakthrough Novels Award, the 2015 Wisconsin Writers Jade Ring Award, and the 2014, 2015, and 2016 Lake Superior Writers Award. James is a member of: Wisconsin Writers Assn, Council for Wisconsin Writers, & Lake Superior Writers.
How YOUR book deal works: You submit your "ready to go" story in MS Word or a .pdf of your book with a non-refundable $300 set-up fee. If your files are complete and ready to print, some or all of the set-up fee will be applied toward your first book order of 50 or more books. The books will arrive UPS at your address within weeks and be ready for you to distribute.

IMPORTANT: BECAUSE WE OFFER THE "PRINT-ON-DEMAND" PROCESS, THERE IS NO REQUIREMENT TO ORDER THOUSANDS OF COPIES, UNLIKE OTHER PUBLISHERS REQUIRE. YOU CAN ORDER ANY AMOUNT AND NEVER BE BURDENED WITH A HOUSEFUL OF UNSOLD BOOKS.

OUR OFFER TO YOU: BVP works with you to create your cover and format your book, adds a barcode and a free ISBN, then submits your book to our printer. You then order a proof copy (about $10 for one copy). You can make changes, then order another proof if necessary. Once you approve the book, you can order 50 or more books at an average price of $6.50 per book, incl shipping. (Price may vary with higher or lower page count, of course.) Anytime thereafter, you can order any number of books for the same, low price. BVP will also put your book on Amazon and Kindle if you wish at little or no cost to you. You share all the royalties. With these online orders through Amazon, there's no work for you except cashing the check.

This is the easiest and probably the cheapest way to get your book printed and out in front of readers (and buyers). It's also a worry-free way to get your book published.

We are now accepting manuscripts. Inquiries are fine. Email or Phone today.

Badger Valley Publishing's
SERVICES:
Pink items are covered by set-up fee. Blue items will have additional charges applied.
If you provide the finished final draft, BVP will:
· Format your text for print
· Format your text for publication
· Obtain FREE ISBN numbers if desired.
· Submit to our printer

· Submit as ebook to Kindle and others.

· Create a website for your book
· Create a softcover edition of your book.

Create a large print edition
· Assist with marketing on our website

· Offer your book on Amazon.com
Plus:

You own the copyright.

You keep all rights and make all the decisions.
You share all royalties.
Publish your story. Create your book. Do it your way. And do it today.
PLEASE NOTE: James Brakken's standard fee for work related to publishing, including writing, editing, creating graphics, photo-work, formatting text or images for print or ebook, grant writing, and all other work connected with publishing is $90 per hour. Exceptions are made in rare circumstances such as work for non-profits, etc. Before requesting work to be done, please ask for an estimate.


Books published by BVP since April, 2012:

(Yellow book titles are by James Brakken)
THE TREASURE OF NAMAKAGON (2012)
THE TREASURE OF NAMAKAGON, LARGE PRINT (2012)
DARK: A Campfire Companion (2012)

DARK: A Campfire Companion (Pocket Version)(2013)
MEMORIES OF A SMALL TOWN BOY (2013) (For the Wally Wenzel family)
RAVEN 2013 (For the Rural Arts Voices of the North Woods, a NPO)

TOR LOKEN & THE DEATH OF CHIEF NAMAKAGON (2013)
TOR LOKEN & THE DEATH OF CHIEF NAM: TIMBER FORD EDITION (2013)
TOR LOKEN & THE DEATH OF CHIEF NAMAKAGON LARGE PRINT (2013)
THE SECRET LIFE OF CHIEF NAMAKAGON (2014)
THE SECRET LIFE OF CHIEF NAMAKAGON, LARGE PRINT (2014)

THE MOOSE & WILBUR P. DILBY PLUS 36 FAIRLY TRUE TALES (2015)

DISCOVERING AMERICA 1 MARATHON AT A TIME (2015) (For Jim Anderson)

SAVING OUR LAKES AND STREAMS: 101 PRACTICAL THINGS (2016)
EARLY LIFE AMONG THE INDIANS: 1892 Memoir of Ben Armstrong (2016)

ALIAS RAY OLSON: The Complete Story behind the 1939 Manhunt (2017)
Billyboy, the Corner Bar Bear plus 36 Fairly True Tales. (2018)
The White Wolf

(2017)

(For Allen Archie)

PEDAL, PANT, AND POLE: Discover Canada 1 Marathon ...

(2018

) (For Jim Anderson)

INFAMOUS, The Crimes of John Henry Seadlund (2019)
45 Fairly True Tales from the Old Corner Bar (2020)
Thornapple Girl (2020)
The Heroine of Cameron Dam (2020)
My Tanner Family History (2020)
Will YOUR manuscript become
Badger Valley Publishing's 25th title?
COMING SOON:
AUDIOBOOK: The Heroine of Cameron Dam (2021) (For Sybil Brakken)

Plus ... SCREENPLAYS of several of the above books!
Make plans today to inquire about publishing your book at BVP!
An Example: Below is Wally Wenzel's wonderful 1930s and 40s memoir from his childhood in Phelps, Wisconsin. Wally is in a rest home now. BVP worked with his family to publish his many stories into this amazing Wisconsin memoir, soon to be available to the public. The Wenzels ordered 50 copies, enough for the family and close friends. Within months, they placed another order of 60 for a Phelps school reunion. More books were offered for sale as a fundraiser by the local historical society. Someday, Wally's book will be in every library in Wisconsin. BVP will work to make YOUR publishing experience will go as well.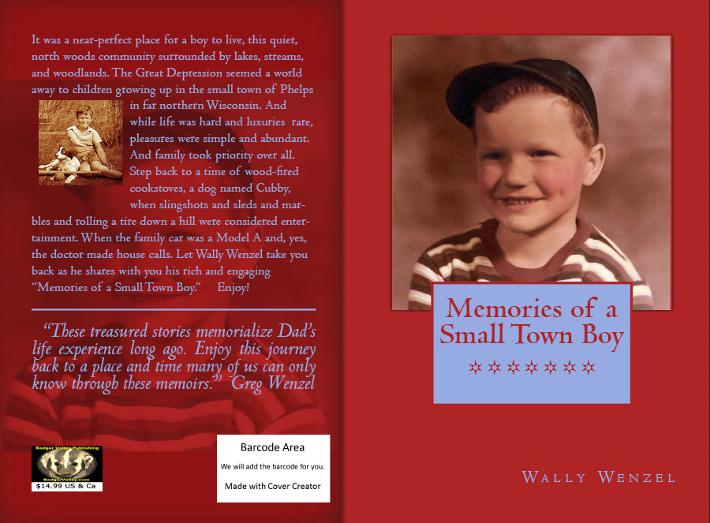 Click here for Jim Anderson's
MARATHON IN 50 STATES book
webpage. His book is a great look at a wonderful accomplishment, including a softcover. 166 pages w/ photos. This is sure to be a big hit due to today's interest in fitness, running, skiing, and biking. Excellent book that inspires elders and youngsters alike. See the "50 STATES" page for more information
-OR- see the Amazon page (similar to the page YOU will get by clicking here:
https://www.amazon.com/Discovering-America-One-Marathon-Time/dp/1516958071