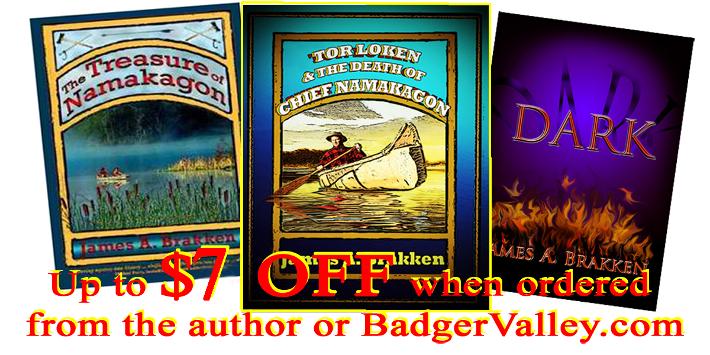 Get a $1, $3, or a $7 rebate on any 1, 2, or 3 book order from this website. Mix or match. And we pay the sales tax, too. Just order the books online, send me an email that you did, and your $1, $3 or $7 refund check will be in your book when it arrives. What could be easier? JB
Yes! To celebrate the release of TOR LOKEN & THE DEATH OF CHIEF NAMAKAGON, BVP will refund $1 when you purchase any book directly from JAMES BRAKKEN or from THE HOME PAGE of this website. Buy two and get $3 off, buy 3 books and get $7 off! THIS OFFER WILL REMAIN AVAILABLE THROUGH JULY 1st.
HOW TO ORDER
: 1. CLICK on
HOME
. 2. SELECT any book and pay with paypal or credit card. 3. MIX or MATCH any books on the Homepage. Place your order(s). 4. Send an EMAIL to BayfieldCountyLakes@Yahoo.com telling how many you ordered. 5. Your $1, $3, or $7 check will be in your book when it arrives by mail. That's it! Oh, yes, every book over 3 will be shipped with another $3 refund. Thanks for your order and for helping us celebrate! BVP
Ready?
Click
here for the Home Page
and start your order.