Announcing the new name change: DARK is now:
DARK
A campfire companion
Enter at your own risk:
HERE THERE BE DRAGONS!

DARK (includes DARK, DARKER, DARKEST)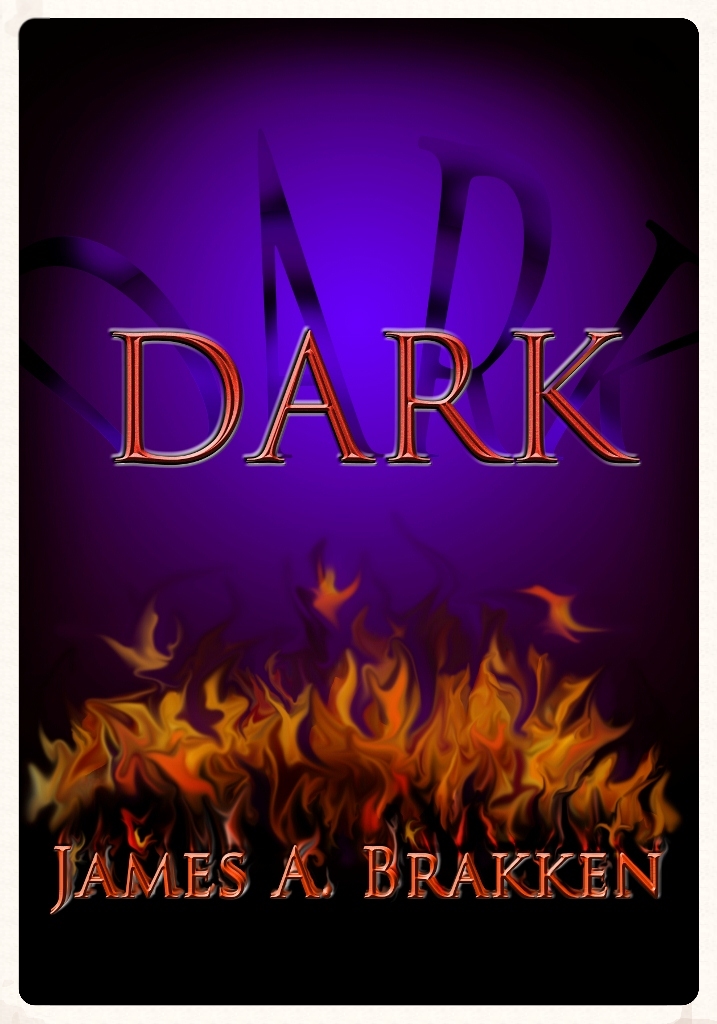 $ 17.99 USD
Includes Tax, Shipping, Handling.
Signed softcover. 190 pages, 50+ eerie poems and delightfully frightening short stories, 50+ macabre engravings.
DARK: 52 eerie poems, 17 delightfully frightful short stories, & 53 macabre etchings.
FREE SAMPLES BELOW.
OR DISCOUNTED DARK EBOOK BELOW.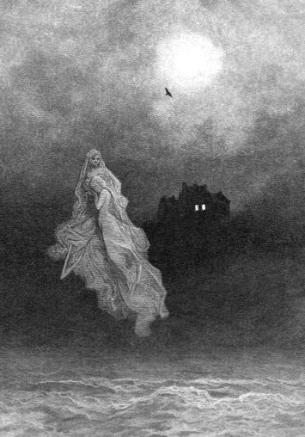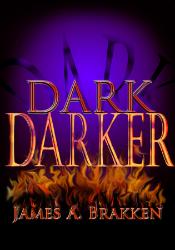 The DARK ebook is now free. DARKER the second third Iis also free. DARKEST, the final third is only $1.49. This is a temporary price and the author hopes you will return the favor by reviewing each.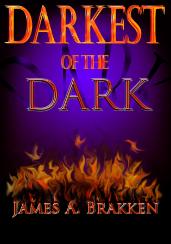 DARK is a collection of over 50 original, eerie poems and delightfully frightening short stories by James Brakken. Some are morbidly amusing, many utterly nightmarish, and others are simply downright disturbing. Over 50 darkly evocative engravings accentuate the macabre nature of the DARK collection. It is for all readers, contains no excessive obscenities nor sexual content, and is perfect reading by the fire on stormy nights, around the campfire, or by flashlight under the covers--provided the door is barred and bolted. DARK is neatly sliced into three parts: Dark, Darker, and Darkest. Each leads you to the next as you creep toward the shivery end. DARK is frightening but delightfully so. MORE BELOW

From the back cover: Lurking beneath the cover of DARK you will encounter a rare collection of James Brakken's spine-tingling poems and delightfully frightening short stories. Your host for this journey through the author's macabre library of horrors is "The Thief of Dreams" who will allow you to explore more than fifty bizarre, twisted, sometimes humorous, and often downright disturbing writings. Sequestered within DARK, the reader will find such devilish works as: - "The Zombie Apocalypse," a 4-part short story of high-tech horror. - "In Gloomy Wood" and other poems guaranteed to chill to the bone. - "Three Dragons," flash fiction designed to draw forth disturbing delight. - "Beastly Feastings" and lighter poems that will elicit nervous laughter. - "Nevermore," an attempt to resolve Edgar Allen Poe's age-old question. - Brief, chilling excerpts from the novel, THE TREASURE OF NAMAKAGON. - OVER 34 more nightmarish tales and creepy poems crafted to test your nerve. For visual relief from the skin-crawling nature of his poems and stories, the author has inserted 53 evocative engravings by master artists from ancient times.

DARK will thrill readers of all ages, although it is not recommended for the very young as it could lead to life-long phobias. ENTER WITH CAUTION -- HERE THERE BE DRAGONS!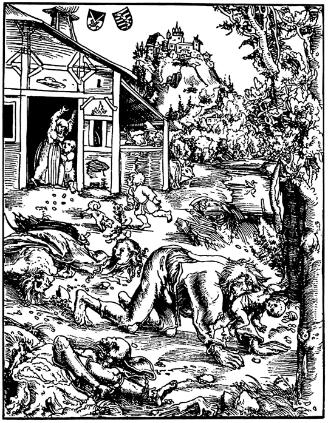 In Gloomy Wood
In a gloomy wood, astray,
Insanely flound'ring with no aim,
Numbed from drink, in deep dismay,
I wandered sleepless, deep in pain.
While mourning deeply for my love,
Weeping for my lost Lorraine,
An angel swept down from above,
Calling out my name.
Calling out, then saying,
"Tears you shed for your fair love,
Agony from her dark death,
All the grief that comes thereof
From shame, sir, you must claim."
"Messenger," I did explain,
"I deeply loved this one now slain!
Leave me to my aimless pain,
Pain for lost Lorraine,
My love now lost, Lorraine."
"Accuse me not. I'm not to blame.
'Twas not me who forged the knife.
'Twas not me who, with disdain,
Took my lover's life!
"No! Not me, who from the mist,
Brought this grief, caused this strife,
Wrought the blade that deadly twist
Slaying my young wife.
My sweet, young, gentle wife."
"Surely, you must know this well,
Looking down from high above,
I'm not the one whom she did tell,
Of her other love."
"'Twas not me who, wild from mead,
Into that pit, her corpse did shove,
Accuse me not of this foul deed.
I slew not my love.
My sweet, young, gentle love."
"'Twas not me who threw her down,
Who buried her in shallow pit,
Far beyond the gleam of town
Where the fields do seem to quit."
"There, where she can see the moon
Shine down bright where roads do split,
Below the mount where lovers spoon,
The mount that's now moonlit.
That lover's mount, moonlit"
The angel then showed badge and face.
He snatched the drink that fogged my brain.
Shackles soon secured my place,
Still, I mourned my sweet Lorraine.
'Twas no angel from above,
Who did, in gloomy wood, obtain
Proof of who did kill my love.
Proof I was to blame.
And alone I bear that shame.
Now, imprisoned, in dismay,
Insanely wailing without aim,
Through gloomy wood, I long to stray.
Stray steeped with dread, deep in pain.
Now mourning, sleepless for my love,
Mourning for my lost Lorraine,
The hangman soon will, from above,
Be calling out my name.
Yes, calling out my name.
'Tis then I'll join my sweet Lorraine.
Night and day, without dismay,
We'll wander free, devoid of pain.
Stay we will in gloomy wood,
In a gloomy wood, astray.
The Bones of Ole Johnson
Far up the old Wisconsin
Lie the bones of Ole Johnson.
His ghost it swims the river night and day.
Ole's looking for a tool
That he dropped in a deep pool.
When the log jam he was fightin' did give way.
The dynamite they used
Was not correctly fused
And blew the pine high above the bay.
As for Ole Johnson's crew,
Across the logs they flew!
But Ole lost his footing on the way.
His men their god did thank
When they made the river bank.
But Ole dropped his Peavey in the drink.
He dove into the pool,
This timber-drivin' fool,
Before he even had the time to think.
Up Ole came for air
But only logs were there,
A-turnin' in the churning icy foam.
Far from the river's shore,
He cursed the logs and swore
That he'd bring that Peavey back or ne'er come home.
Pine floating overhead,
Ole swam the river bed,
He hoped to bring his precious Peavey back.
And, above the river's noise,
Shout, "Found it!" to his boys.
The mark of any worthy lumberjack.
His men all stood and stared
Their concern for Ole shared,
Watching all the thrashing, bashing pine.
While below, Ole did swim,
The chance now growing slim
That they'd see poor Ole Johnson down the line.
A thousand pounds each log did weigh,
Or even more, I would say.
Half-a-million floatin' to the mill.
Ole Johnson down below,
A-countin' as they go,
And the ghost of Ole Johnson counts them still.
Now, if you take a float
In a kayak, tube, or boat,
On a Wisconsin crick or creek or river, too,
And you feel a sudden bump
Or you hear a muffled thump,
Know that the ghost of Ole Johnson counted you.
And if a Peavey you should see
Below a river flowing free,
Know that Ole left it on the river bed.
Leave it there for Heaven's sake,
Or Ole's place you'll surely take,
Just a-countin' boats a-floatin' over head.

Far up the old Wisconsin,
Lie the bones of Ole Johnson,
A-countin' all the boats as they go through.
If you feel a sudden bump
Or hear a muffled thump,
Know that the ghost of Ole Johnson counted you.
Now my tale of Ole Johnson is all through.
Who are the artists?
Search these master engravers in Wikipedia for more information:
Albrecht Durer
Gustave Dore'
Hans Holbein the Younger
More names and information coming soon

DARK (part 1) is now offered as an EBOOK at
Read it on your laptop, kindle, nook, smart phone or most ebook readers for FREE!
The DARK EBOOK is divided into three parts: DARK, DARKER, DARKEST.
Order the DARK EBOOK for FREE. DARKER will be priced at FREE, too. DARKEST will be available for only $1.49. Includes all written content from the softcover, including most of the macabre engravings. This ebook version includes three items not available in the softcover version.

Watch for more offers at the author's DARK facebook page, DARK.DARKER.DARKEST

Order soon, prices are subject to change without notice. Thanks!

Ebook version of DARK is not intended to be of the same, premium quality as the print version. Still, at this heavily discounted price, it is an exceptional value to those who prefer reading on laptops, phones, notepads, or ebook readers.