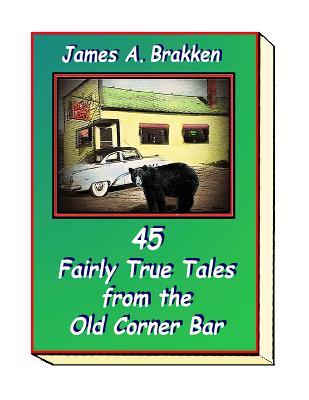 Forty-five Fairly True Tales from the Old Corner Bar
Ah, the good old days! When the rivers of time flowed slower and local taverns served as public meeting places. Although these "fairly true" tales could have come from almost any watering hole, most originated in the old Corner Bar in Cable, Wisconsin, a usually quiet village not far from Lake Superior and deep within the Chequamegon-Nicollet National Forest.
While names and some of the "particulars" have been changed, these stories are based on true events as told to or recalled by James Brakken, Bayfield County's award-winning author of historical fiction novels and short stories.
So, come on in. Meet the gang. Lift a glass and join the fun. Laugh at the latest jokes or another late-night prank gone awry. Learn more than you might wish to know about the goings on around town or in the only other tavern in the village.
These fairly true tales will leave you laughing or shocked or sad or utterly flabbergasted when you learn how clever some patrons of the old Corner Bar can be one minute, yet how dimwitted the next.
Step into the past in the old Corner Bar. We've been waiting for you!
Note: 6 of these stories are found in James Brakken's other short story collections, Billyboy, the Corner Bar Bear and The Moose & Wilbur P. Dilby. But the remaining thirty-nine tales are all new. So what are you waiting for? Grab a copy of this salute to every old Corner Bar and enjoy this journey into days gone by.