Billyboy, the Corner Bar Bear
Plus 36 Fairly True Tales from Up North
COLLECTOR COPY of Billyboy, the Corner Bar Bear Plus 36 Fairly True Tales from Up North (Ships Free!)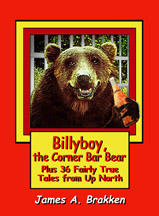 $ 17.99 USD
Only 40 signed & numbered FIRST DRAFT copies will be sold. Order yours now. Delivery (or pick up) after April 9.
This is the perfect gift for anyone who might like a glimpse into the past life of folks up north.

Like THE MOOSE & WILBUR P. DILBY, you get 37 more short stories from the old days from award-winning historical fiction author, James Brakken. You'll love these views of days past, each offered with down-to-earth sensitivity and humor.
A 200 page, illustrated softcover that's suitable for all age readers. Ships free to USA. WI Sales Tax paid by BadgerValley.com.
BadgerValley.com can publish YOUR book, too!
Professional quality. Reasonable terms. No need to purchase thousands of books. In fact, most of our Indy authors purchase about 50 books at a time. NOW ACCEPTING BOOK PROPOSALS AND REVIEWING MANUSCRIPTS.
CLICK HERE to see our BVP webpage on this website.
Contact James Brakken, BVP Publisher, today.
Email TreasureofNamakagon@gmail.com
or phone 715.798.3163 today!
Available April 9th:
40 signed & numbered collector copies.

Pre-order

Yours
Today!

Click on book cover (left)
These will go fast!

Book

Launch
Information
Coming Soon!

From the back cover:
If only we could see life in the north as it was way back when. Imagine the tales we'd hear! Stories so important back then, yet so soon forgotten.
Here you'll find tales inspired by true events that occurred somewhere in northern Wisconsin in the past. James Brakken, Bayfield County's award-winning author of historical fiction, provides a glimpse into days gone by, warming your heart, bringing a tear, or making you laugh out loud.
These are tales told straight from the heart and the heart of the north. Of good people and bad, clergymen to gangsters, youngsters to oldsters. As in Brakken's The Moose & Wilbur P. Dilby collection, these thirty-seven stories take place not far from Lake Superior in woodlands, waters, and places that folks called home.
Step into the past with characters you'll grow to love and places you'll love to visit——if only within these pages.