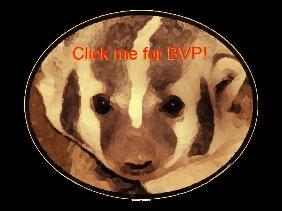 Secure ONLINE ordering w/ credit card or PayPal OR download an order form below.
All books from this site are top quality autographed softcovers.
More at Online Store page.

3 REASONS TO PURCHASE HERE & NOT AT AMAZON: 1, BVP ships free to lower US and pays all sales tax. 2, Every book is inspected and signed by the author. Hassel-free returns, too. 3, Amazon has undercut America's small, indy bookstores to the point where many have closed. We need our Indy bookstores. Please help. 4, Amazon takes a big cut. Although you might save a bit more than a dollar, you will also be denying the author about five. Independent authors depend on internet sales. Thanks for supporting indy authors by ordering from our websites. JB
The Chief Namakagon Trilogy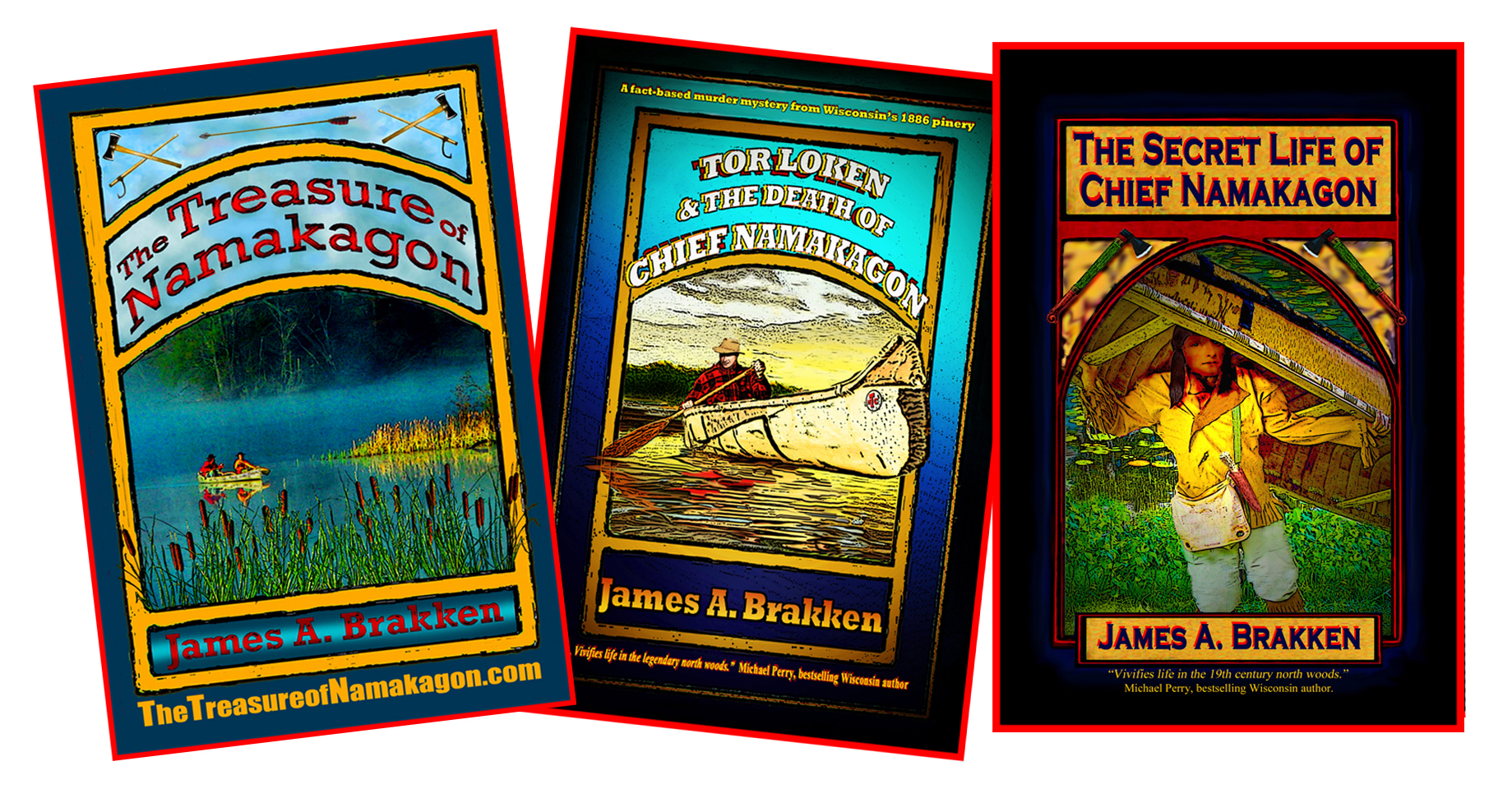 $ 49.99 USD
The award-wiinning series based on Wisconsin's legendary Chief Namakagon. Buy all 3 and save.
Ships free, tax paid. See the TRILOGY WEBPAGE for more information.
Saving Our Lakes & Streams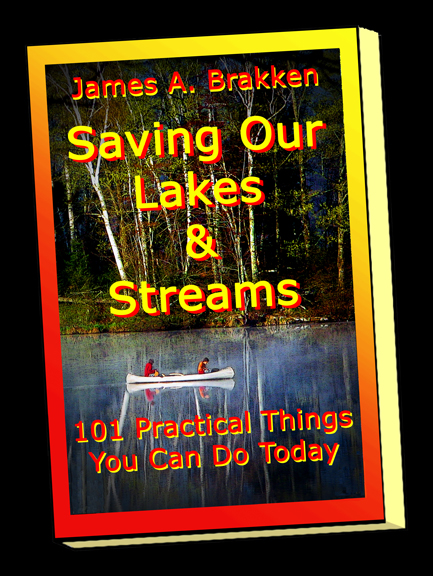 $ 14.99 USD
A handbook for all who value our waters enough to care for them. 200 pages, 75 articles, 75 Wisconsin lake and stream photos and 101 practical tips. Ships free.
(For bulk orders, go to the Lakes & Streams webpage on this site.)




Online Book Store now open!

Note: These are top quality 6 X 9 trade softcovers. Large prints are 8.5 X 11. Hardcovers not available.

Save on Blems! BELOW

Our printer goofed! We have several boxes of books that have minor problems with some of the graphics. The rest of the book is perfect. Autographed "blem" copies are available below.
Secure, online ordering with PayPal or credit card. Or download an order form and mail with check or M/O.
No cash, please.
TEMPORARY PRICE DROP: BVP will pay your tax.

ALL JAMES BRAKKEN BOOKS ORDERED FROM THIS WEBSITE OR BY ORDER FORM ARE AUTOGRAPHED. ASK ABOUT A PERSONAL NOTE FROM THE AUTHOR AT BayfieldCountyLakes@Yahoo.com.

Order any 3 James Brakken books from this website and get a $7 rebate.
Your rebate check will be in the book when you receive it. This offer does not include the Study Guides. It is only available online from BVP or directly from the author. Not good in any other outlets. Sorry, this is not retroactive. All 3 must be ordered together. Mix or match.

Price shown INCLUDES shipping and handling charges. We pay the tax.

TREASURE print versions now on sale here. E-book available on Smashwords.com [best price] or Amazon. [Smashwords version will work in ALL readers, from Kindle to Nook to your laptop or smart phone.]
All books ordered from this site are signed. [Not so with Amazon or other sellers.] Bulk autographed copies are available from the author. Email BayfieldCountyLakes@Yahoo.com or phone 715-798-3163.
About TAX and SHIPPING: (Temporarily paid by BVP!)

Books shipped to Wisconsin are subject to the 6% sales tax. Shipping is $2 - $4. MULTIPLE ITEMS SHIP AT $1 for each add'l item IF YOU USE THE ORDER FORM.

Badger Valley Publishing does not accept returns on opened packages.
Below:

Discussion & Study Guide w/ 186 questions and research projects from each of the 43 chapters.
Discussion/Study Guide with Answer Key (Note: this is provided free to teachers who order 10 or more books for classroom use. The same arrangement can be used by book clubs.)
LARGE PRINT EDITIONS OF
THE TREASURE OF NAMAKAGON
TOR LOKEN & THE DEATH OF CHIEF NAMAKAGON

and
THE SECRET LIFE OF CHIEF NAMAKAGON

16 point font, 232 & 290 pages, 8.5 X 11" Easy for young and old eyes to read. Complete with maps, illustrations, 180 word glossary. Big, beautiful, illustrated, autographed books that will look great on your coffee table!

$25 each includes shipping and tax.

The Moose & Wilber P. Dilby Plus 36 Fairly True Tales from Up North
$ 17.99 USD
37 tales inspired by true events from times long past. 2 are 1st place award-winners. Stories straight from the heart and the heart of the north—of good people and bad—from clergymen to charlatans, of youngsters, oldsters, and those between. All take place not far from Lake Superior, among woodlands waters and rural villages folks here call home.

Written for adults, but suitable for ages ten and older. Includes tax and shipping.
DARK (includes DARK, DARKER, DARKEST)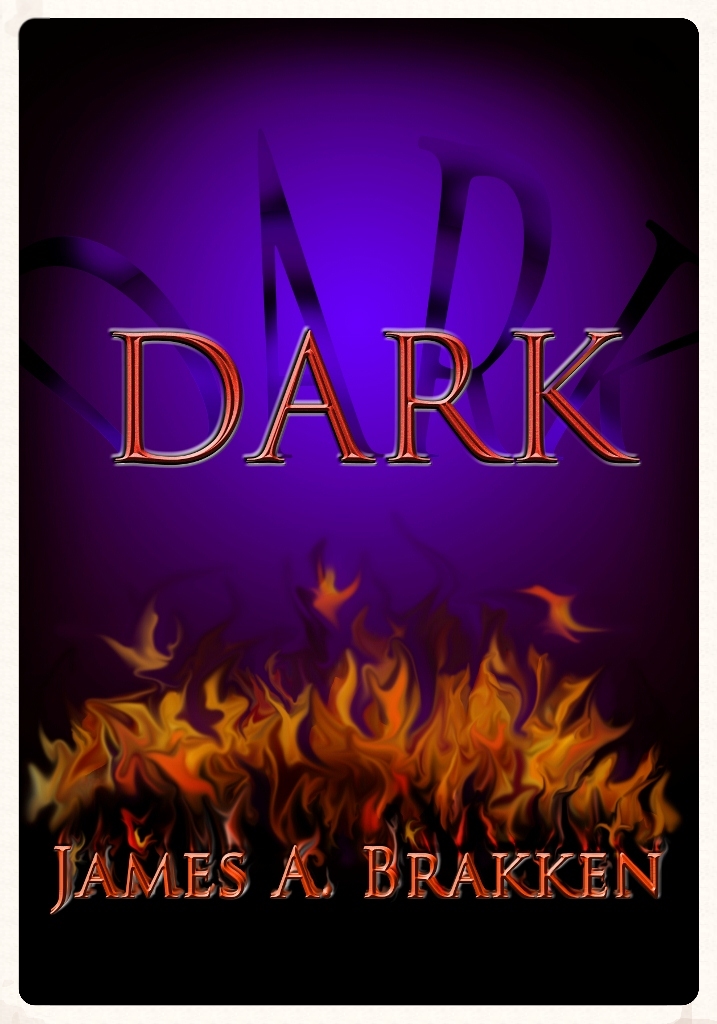 $ 17.99 USD
TAX, SHIPPING, & HANDLING INCLUDED
190 page softcover. Signed copy.
See MORE on our DARK page on this website See some of the spooky illustrations and read some sample clips.
DARK is a collection of over 50 original, eerie poems and delightfully frightening short stories by James Brakken. Some are morbidly amusing, many utterly nightmarish, and others are simply downright disturbing. Over 50 darkly evocative engravings accentuate the macabre nature of the DARK collection. It is for all readers, contains no excessive obscenities nor sexual content, and is perfect reading by the fire on stormy nights, around the campfire, or by flashlight under the covers--provided the door is barred and bolted. DARK is neatly sliced into three parts: Dark, Darker, and Darkest. Each leads you to the next as you creep toward the shivery end. DARK is frightening but delightfully so.
The Treasure of Namakagon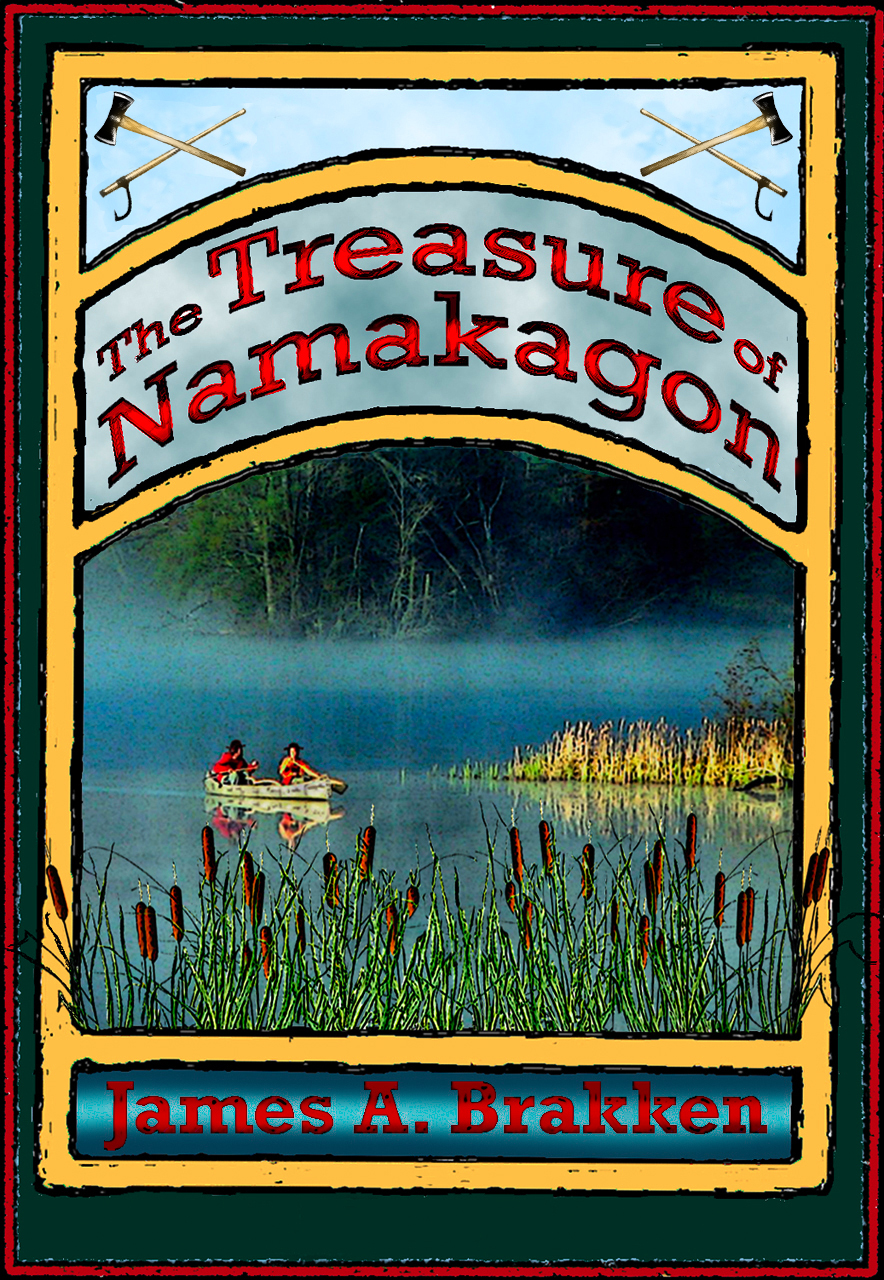 $ 17.99 USD
A fast-paced, fact-based 1880s lumberjack adventure. 2nd PLACE WINNER OUT OF 10,000 ENTRIES IN THE 2013 AMAZON BREAKTHROUGH NOVEL AWARDS 43 chapters, 63 illustrations, Signed. 248 pages, 6 x 9 trade softcover. $17.99 plus $3 shipping and handling. Ages 10 to 110.

Young Tor Loken finds himself working in a wilderness lumber camp and meets Chief Namakagon (a real person who really did have a secret silver mine). When a sinister lumber baron threatens the camp, the lumberjacks take action.
Put on your mackinaw and grab a pike pole, you are in for a thrilling, prize-winning lumberjack adventure!
Tor Loken & the Death of Chief Namakagon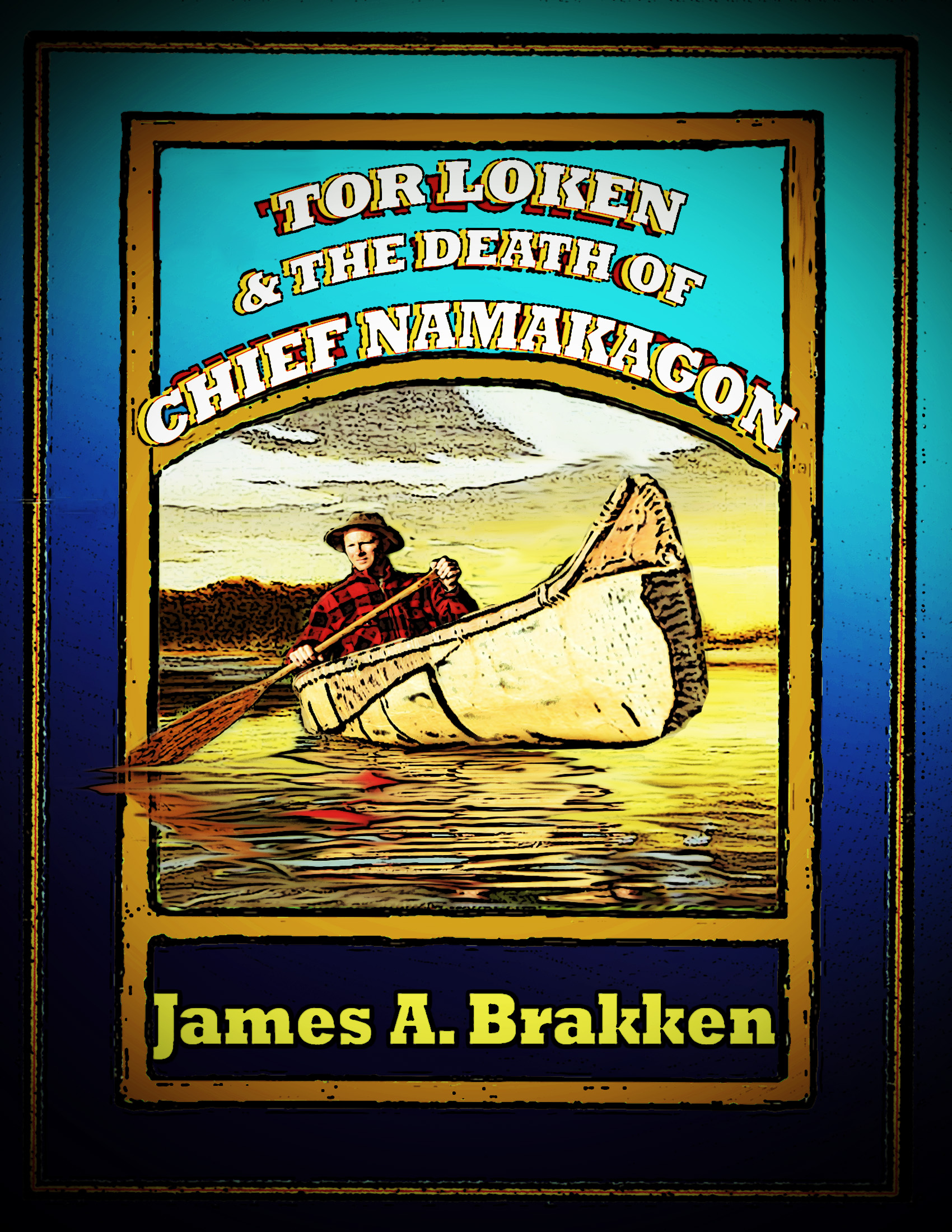 $ 17.99 USD
A shipwreck, a lost map, river pirates, lumberjacks, miners, charlatans, ne'er-do-wells, and the 1886 murder of Chief Namakagon for his silver treasure! Follow the trail of clues in this thrilling, fact-based, mystery novel. Solve the twisting, turning, 13-decade-old murder case, a fact based story penned by the Bayfield County author whose research unlocks the truth. Includes maps to the Marengo silver fields, the likely location of Chief Namakagon's legendary lost silver mine.
The Secret Life of Chief Namakagon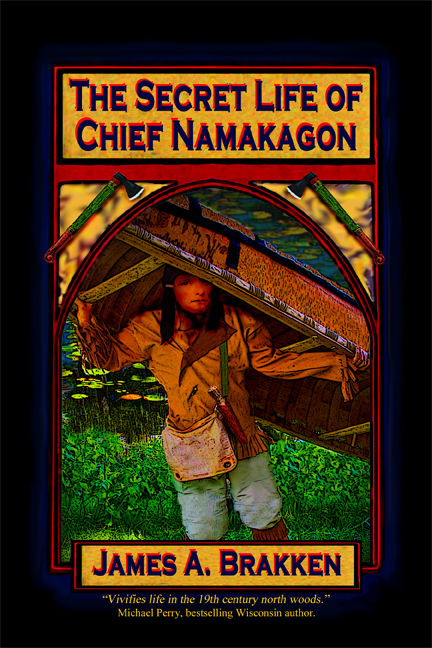 $ 17.99 USD
Who was he before he came to NW Wisconsin? Was he a fugitive in hiding? Wanted for murder? The answers will amaze you! Follow his fascinating life among the Ojibwes and fur traders of the north. An adventurer caught between two worlds, his life story propelled him into fame. Then jealousy and greed change everything. Share his courageous story—the true tale of a feared warrior—an Anishinabe leader now destined for our history books.
BLEM COPY of TREASURE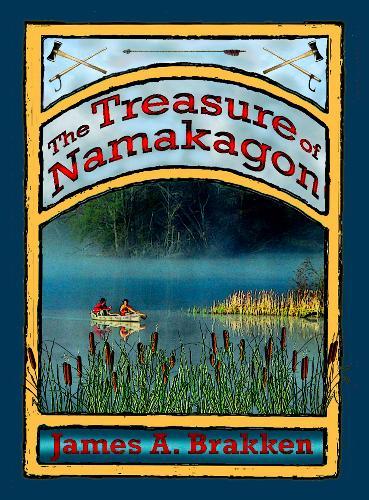 $ 15.99 USD
SAVE FIVE BUCKS!
Our printer goofed! We're passing the savings to you. Same book as above but with minor problem with graphics. Otherwise perfect. Autographed. Limited to supply on hand. BVP will pay any tax, too!

Schools like this!
$12.99 + $3 S&H!
LARGE PRINT Edition of Treasure of Namakagon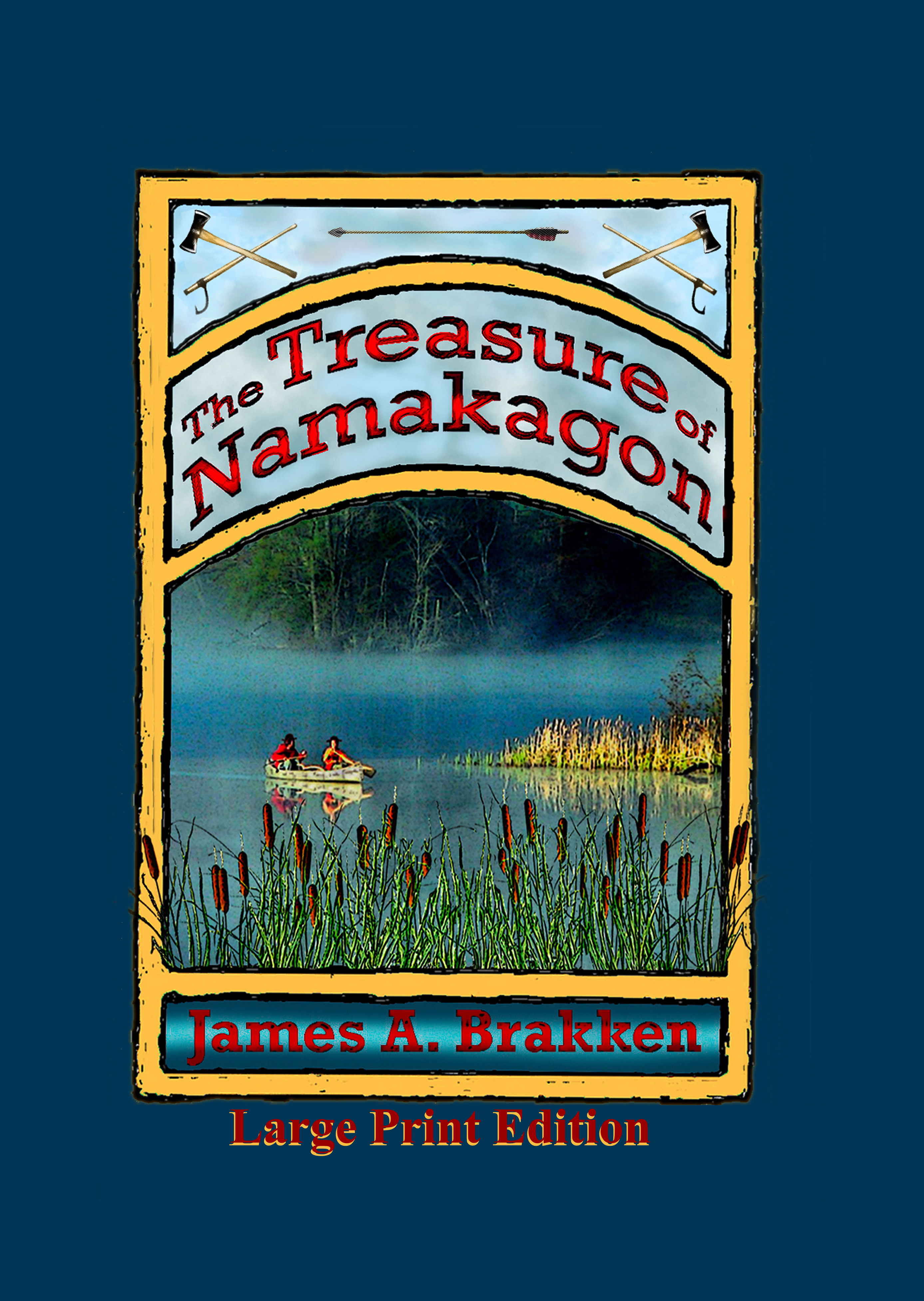 $ 25 USD
$25 U.S. plus FREE shipping and handling & NO SALES TAX (Cont. US only. Email for other shipping.) 16 point New Times Roman font. 290 pages. 8.5 X 11.
LARGE PRINT EDITION Tor Loken & the Death of Chief Namakagon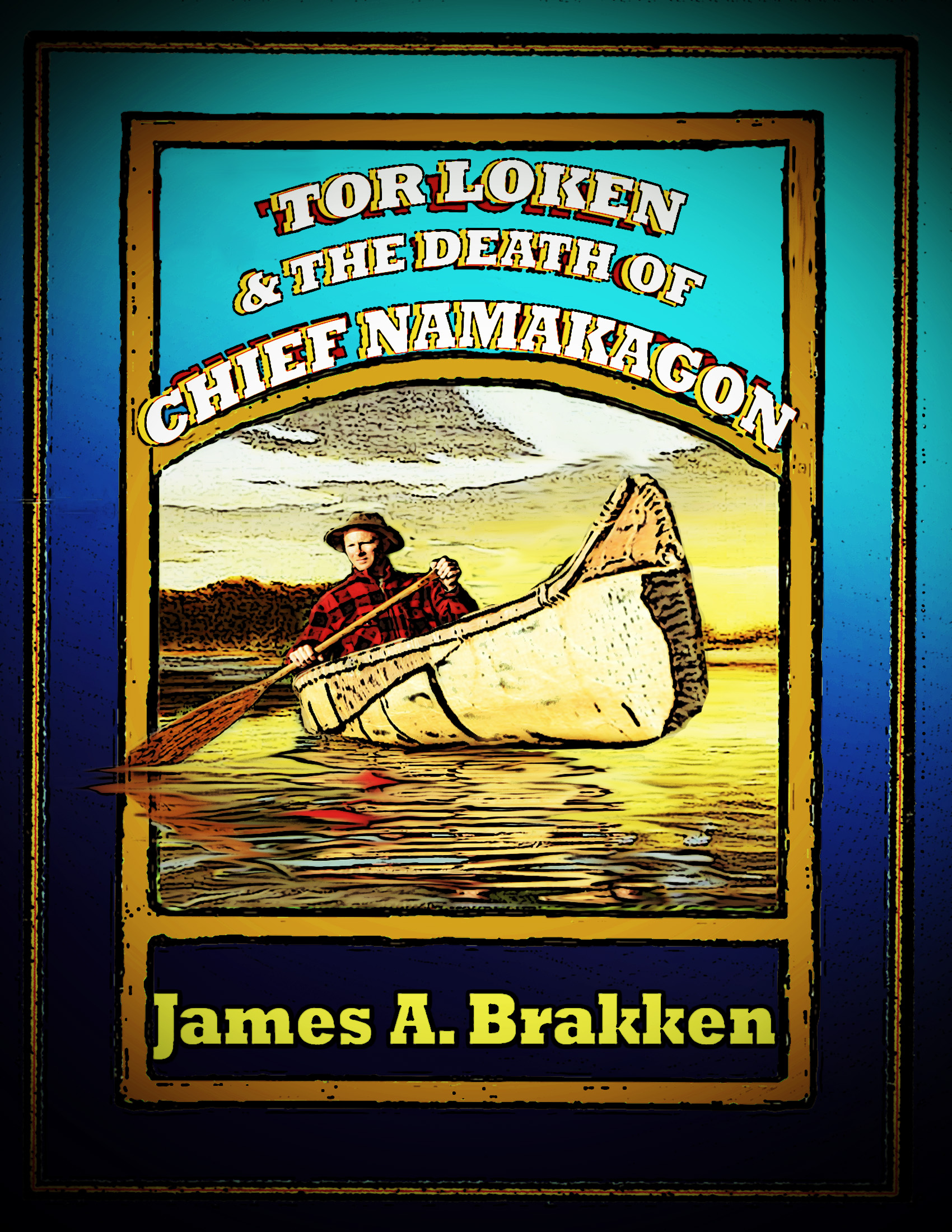 $ 25 USD
$25 U.S. includes FREE shipping and handling & NO SALES TAX (Cont. US only. Email for other shipping.) 16 point New Times Roman font. 232 pages. 8.5 X 11. CONTAINS MAPS TO THE 1880s MARENGO SILVER FIELDS, ACTUAL PRESS ITEMS, RATIONALE SUPPORTING NAMAKAGON MEETING WITH FOUL PLAY. Large font makes for easier reading for all ages. Complete with original illustrations.

LARGE PRINT: Secret Life of Chief Namakagon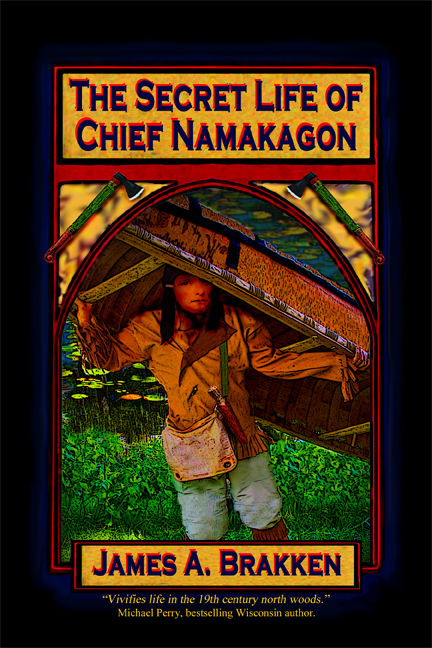 $ 25 USD
LARGE PRINT EDITION
The Secret Life of Chief Namakagon
Illustrated. 16 pt font for easy reading. $25. Ships free.
Was he a fugitive wanted for murder? Was he a celebrated adventurer and author? The truth will amaze you!
Treasure of Namakagon Study & Discussion Guide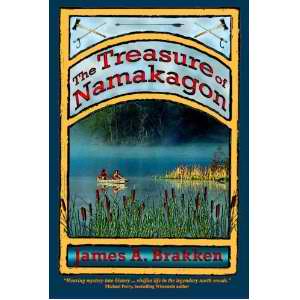 $ 3.99 USD
186 discussion questions and research projects to accompany the book. $3.99 plus $2 shipping/handling. TAX INCL.
DISCUSSION QUESTIONS AND RESEARCH PROJECTS ONLY. The answers are only found in the TEACHER'S STUDY GUIDE & ANSWER KEY.
(Note: U.S. Copyright Law applies to these documents. Duplicating is not permitted w/o the author's express, written permission. Please respect all authors' right to make a living from their writing. Thank you.)
EBOOK VERSION ONLY $1.99 at SmashWords.com

[Search for James A. Brakken on the Smashwords.com website.]
Study & Discussion Guide w/ Answer Key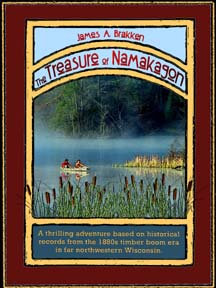 $ 13.99 USD
186 Discussion/Study questons and projects with answers.
Find samples of the questions on our DISCUSSION AND STUDY GUIDE website page.
(Note: This document is provided free to teachers who order 10 or more books for classroom use.)
$10.99 plus $3 shipping and handling. SALES TAX INCLUDED.
(Please ... U.S. Copyright Law applies to these documents. Duplicating is not permitted w/o the author's express, written permission. Please respect all authors' right to make a living from their writing. Thank you.)