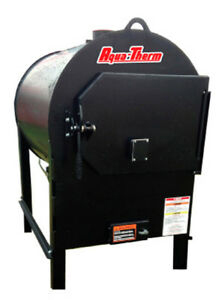 NEVER INSTALLED! OUTDOOR WOODSTOVE! Aqua-therm E345. 100kBTU. Can heat large house, garage, PLUS shop or business. $7,800 new, NOW $6,250! 715-798-3163 (no text available).
LEFT: GENTLY USED AT-275. $2,600.
More details & photo below.
IF YOU KNOW OF SOMEONE WHO MIGHT BE INTERESTED, PLEASE SHARE THIS INFO. SAVE OVER $1,100 ON THIS BRAND NEW STATE-OF-THE-ART OUTDOOR WOODSTOVE Located in Cable, WI. Call 715-798-3163 today (No Text!) to see this fantastic bargain! Up for sale is a BRAND NEW Aqua Therm ECO-1, E345 wood-fired boiler designed for in-home or outside installation. This is the large model furnace, rated by the company at 100,000 BTU/Hr. It is CAPABLE OF HEATING A SMALL TO VERY LARGE HOUSE PLUS A SHOP AND GARAGE if you need to. It will also heat your water, if you wish. PERFECT FOR HEATING A COMMERCIAL BUILDING SUCH AS A STORE OR REPAIR SHOP. You can save thousands per year on heating costs by burning your own wood or even scrap wood from a local sawmill. And, the Eco-1 345 system is the most efficient furnace they've yet made, saving you wood and saving the air from excess carbon. Among the benefits of this A-T stove are: Large, oval door (19.5" X 25") for easy loading; long firebox that will accommodate up to a 55" log (

so you only need to cut a 100" log twice!); AT stoves have an ash removeal door with auger for easy ash removal. No back-breaking shoveling out; 76 gallon boiler so you don't have to mortgage your house in order to buy anti-freeze as you do with many stoves; and best of all—this is a brand new stove, clean and ready to install. This state-of-the-art woodstove has never been fired. It comes with the

original user manual that shows complete, detailed installation instructions, too.

Plus, it has a brand new, unopened insulation kit. Alone it's worth $275. Also comes with the draft fan, circulation pump, aqua-stat, temp & pressure gauge, and electric switches provided by the factory. Purchase this stove from the factory or from one of the A-T dealers and you'll pay over $7.000 plus state tax of around $350. Buy it from me for $6,200 and I'll help you get it on your trailer if you wish. Shipping this stove is not included in the price. Send me your zip code and I can help determine your shipping cost if you wish or you can contact Speedy Delivery or another shipper with the size and weight (below) and ask for an estimate. Or … you bring the trailer and I will help load it. I estimate that I have saved and average of around $3,000 per year in propane with my A-T 275 that I began using in 1994 for a total savings of over $42,000 during the last 14 winters. (The stove I have up for sale is an AT-345 and will save even more.) Plus, I get my exercise by cutting and stacking wood and great satisfaction knowing my heating dollars are going into my account, not some gas company. Height: 57.5" Length w/fan: 73" Width: 38.5" Weight: 1050# Included: —A

NEW

Aqua Therm wood-fired furnace/boiler in perfect working condition. —A NEW insulation blanket and thermal tape kit worth over $275 —Expansion Tank —Circulation pump —Draft Fan —Crank for removing ashes using the built-in ash auger —Electrical switchbox and power line —Honeywell Aquastat heat control switch —Pressure/temp gauge —Installation & maintenance manual for the boiler, pumps, control, panel! What you'll need: —A place to house your stove. (I built a simple 10' by 14' shed to hold both stove and some wood. (Most of my firewood sit's right outside the door, ready to feed into the stove.) Menards sells DIY metal sheds for about $300 that would work fine.)
Concrete floor is nice, but treated planks or pavers or blacktop would do fine. Some guys have used gravel floor.
Also needed: —Stovepipe for the chimney —A 110V power line into the shed —Fittings, etc., to connect your stove to the hot/cold line that runs to your house – shop – garage. —Firewood —
You'll also need a strong table to support the huge stack of money you'll save over the years!

CALL 715-798-3163 TODAY to arrange to see the stove or to reserve it so nobody else buys it. (However, this is sold on a

first-com, first-serve basis

, so whoever puts down a $500 deposit first gets the stove.
About my shed:
I built a bare-bones 10 by 14 shed w/ a steel roof that is more than adequate for a stove this size. I hauled most of the materials from Menards
on my 4 x 6 trailer.
Send me your questions. Phone 715-798-3163 (no text) or email me at TreasureofNamakagon
@gmail.com.


.

Also: GENTLY USED AT-275
$2,600.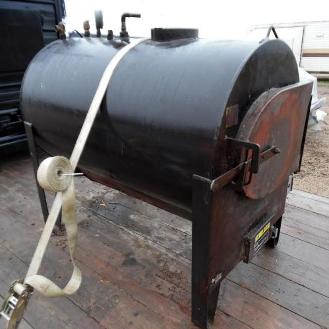 Note: The above image shows how the USED stove will look when mounted on your trailer. Exceptions:

1. The above stove does not have the $275 value insulation blanket attached. 2. The brand new stove has a different door latch system and some other changes. When mounted it will look ALMOST like the one above, but brand new.

GENTLY USED AT-275
$2,600.
Ready to move, install and fire when ready.

Comes with all the parts you need except the insulated pipeline to the buildings you wish to heat. Includes some treated anti-freeze but you might want more. If you purchase it, I will help you load it on your trailer. If you bring a pickup w/ no topper, and if you know how to winch something heavy up ramps and into a truck bed, you will be able to move this stove. I will have it on rollers and ready to roll out of my shed and near ramps that will take it up onto your trailer or your truck. (You'll need to bring a come-along and some 5 gal pails for the anti-freeze if you want it. You'll also need to bring some planks to help roll the stove on. If all goes as it should, it will take about 1 hour to get the stove from my shed onto your trailer.) I only accept cash. BTW, because I already paid the sales tax on this item, you will pay none. That saves you about $150 up front. More on the stove follows:

This stove was built in 2007 but its first use began in 2014.

It's smaller than the stove described to the left, but functions the same. The size of the log it takes is 42" I try to cut my logs into 32" - 38" lengths so I only need to cut a 100" log twice. I usually fill the stove half-way to two-thirds full, once a day. That's enough to heat my 2,800 sq foot house even on the coldest January day. I prefer 2-3 year old maple, ash, or ironwood but often settle for oak because it's the most plentiful hardwood near Cable, WI, where I live. I have no woods myself but have friends who are happy to have me clean up their windfalls and standing dead trees. When lack of time or free wood occurred, I would purchase firewood by the truckload, 10 to 12 cords (100") at a time. The most I ever burned was 7 cords on very cold winter (Oct thru April). Most years it was 6 cords or less. The last load I bought was in 2017 and it lasted two and 2/3 years. It cost $1,200 for 12 cords of oak and maple mixed. Thus, my heat bill.

Send me your questions. Phone 715-798-3163 (no text) or email me at TreasureofNamakagon
@gmail.com.
$2,600 First come--First Served, cash only.
715-798-3163 (no text)
.
Some specs:
Comes with all parts incl my stovepipe. You'll also get the original user manual with detailed installation instructions. Bring 10 clean 5-gal buckets w/ covers if you want to keep the anti freeze in the stove.

Height: 57.5" Length w/fan: 58" Width: 38.5" Weight: 950# empty. Door opening is19.5 x 25. Length of firebox is 42" which means you can squeeze a 45" log in if at an angle. What works best is 32" - 38" logs. Firebox diameter is 32.5. 80,000 BTU, but some owners claim that's very conservative.

Includes insulation blanket already attached.
About my shed:
I built a bare-bones 10 by 14 shed w/ a steel roof that is more than adequate for a stove this size. I hauled most of the materials from Menards on my 4 by 6 trailer.
How much will I save?
A: If you take good care of your stove and follow the summer storage procedure in the manual, your stove should last for years.

My conservative estimate of the $ I saved over propane cost in the last 3 decades is $40,000. Probably more.
Your savings will vary depending on your wood supplier, free wood you might be able to get, how big the space is that you need to heat, how hot you set your thermostat, and weather trends.
You may very well outdo me in savings per year!
Send me your questions. Phone 715-798-3163 (no text) or email me at TreasureofNamakagon
@gmail.com.
.