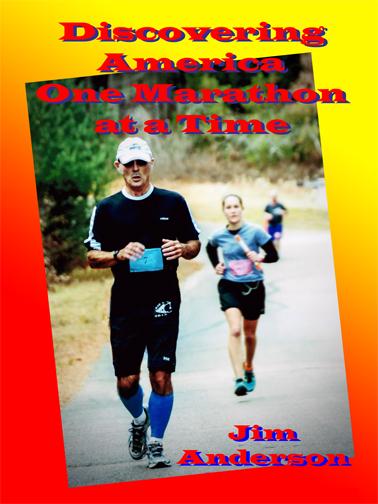 First seen at the CHEQUAMEGON FAT TIRE RACE in Cable Wisconsin by over 3,000 racers! Also at Cable's FALL FEST. Selling fast. Order yours now. Ships free w/ tax paid by author.

Discovering America One Marathon at a Time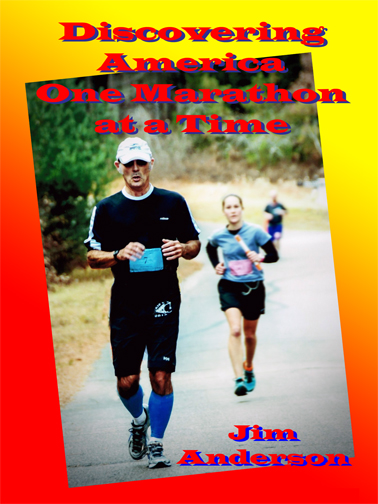 $ 14.99 USD
It's a great, behind-the-scenes look at the USA through the eyes of a runner who, at the age of 51, began a quest to run a marathon in every state. Wonderful, inspiring reading. Many photos. 166 pages. Price includes tax, shipping & handling.
See below for more.

Told he was too old to run a marathon in every state, Jim Anderson laced up his running shoes and took on the challenge. Twelve years later, he completed his goal and gained a unique appreciation for our nation and its history.
Stories of America discovered
·
The grandson of our tenth president lives on.
· A town starts from a boxcar left after a train wreck.
· An Iowa farm girl saves a passenger train.
· Andersonville prisoners' prayers for water are answered.
· A cross country skier passes away, yet completes his 20th American Birkebeiner.
And the author's quest to run in every state
·
Running through 4 cities in 2 states in 1 race…
·
Finishing in front of 100 Scottish Clans on Grandfather Mountain…
· Making his way through the Hatfield and McCoy Feud country…
· Running the Chisholm Trail…
·
Running the world's highest paved marathon … and 45 more!
These all come together in an inspiring story of a senior marathoner who saw America's history come alive while fulfilling his dream.
Foreword
Goals. We all set them. Some large. Some not. Most come from within. Some are inspired by others.
Jim Anderson, a Wisconsin public school teacher closing in on retirement, had a fellow tell him, "At your age, you could never run a marathon in every state." Though not meant as a challenge, one marathon soon led to the next and the next. Twelve years later, Anderson crossed yet another finish line, allowing him to join that finite group of determined athletes who have run a marathon in each of our nation's states.
This is more than a book about how to run or where or why or when. True, the struggle to complete these fifty arduous races captures attention. How could it not? But it is the backstory of each event—the people, the history, the charm of each new place—that fascinates. Chapter after chapter presents another atypical look at our land, unique perspectives missed by everyday travelers.
As one who has organized, coordinated, and participated in many athletic competitions, I can say that this book, Jim Anderson's chronicle of discovering America one marathon at a time, is both fascinating and inspiring as well as an amazing goal conquered.
Gary Crandall
Chequamegon Fat Tire Festival Director
2003 Mountain Bike Hall of Fame Inductee

This a Badger Valley book. Bulk orders for clubs & vendors available at special prices. Inquire at TreasureofNamakagon@gmail.com or 715-798-3163 or see below.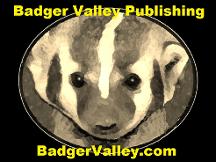 Watch this page for news about special events and sales.

Contact TreasureofNamakagon@gmail.com for community talks and book signings. Thanks for your support of Indy authors and Indy bookstores, too!